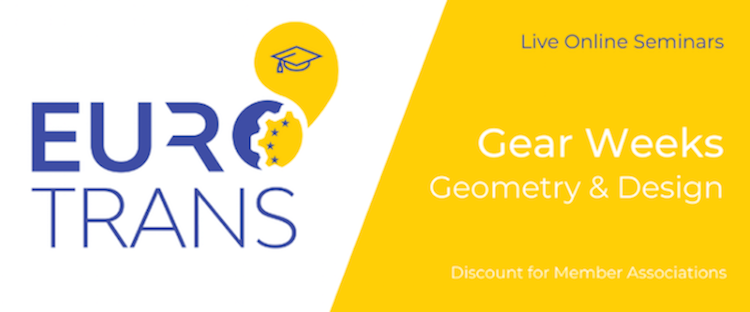 EUROTRANS continuously works together with world-class experts & trainers to create trainings for your needs. For 2020, EUROTRANS Gear Trainings will be held online with live presentations by top industry experts – three weeks packed with specialized trainings at master level. ­
­ ­ ­
­This comprehensive online course has been developed by EUROTRANS, the European Organization for Power Transmission Industry, in cooperation with FVA Software & Service, and leading gear experts from Germany.
Are you a member of EUROTRANS partner associations?
Enter the code "Eurotrans2020" when you register and get a discount.
Week 1
Trainer: Dr. Christian Wirth
24.11.2020
Geometry Fundamentals of Involute Gears
25.11.2020
Fundamentals of Bevel and Hypoid Gears
26.11.2020
Basics of Planetary Gears
Week 2
Trainer: Dr. Ferdinand Wikidal
01.12.2020
Load Capacity Rating Based on Standards
02.12.2020
Gear Design Based on Local Methods
03.12.2020
Application of Gear Rating Methods
Week 3
Trainer: Dr. Klaus Michaelis
08.12.2020
Optimal Use of Gear Materials
09.12.2020
Basic Rating Practice for Safely Avoiding Gear Failures
10.12.2020
Practice-oriented tests for gear lubricants
All modules are scheduled from 03:00 PM – 04:30 PM CET ­
­ ­ ­
­ If you have any questions please do not hesitate to contact Ms. Cassandra John.
Cassandra John
Training & Conference Management
FVA GmbH
E-Mail: [email protected]
Phone: +49 69 6603 1729
EUROTRANS Partner Associations