For several decades, Schaeffler has been offering a comprehensive portfolio for industrial robotics based on conventional bearing components such as radial and angular contact ball bearings, cylindrical roller bearings, tapered and spherical roller bearings etc. Over the years, special developments that are matched to suit articulated robots have been added, such as crossed roller bearings with and without gear teeth or angular contact roller bearings.
Applications
Today, smaller robots and some collaborative robots, so-called cobots, are being increasingly used for the automation of monotonous handling and assembly tasks, for dispensing adhesives and sealants or also for interlinking machines.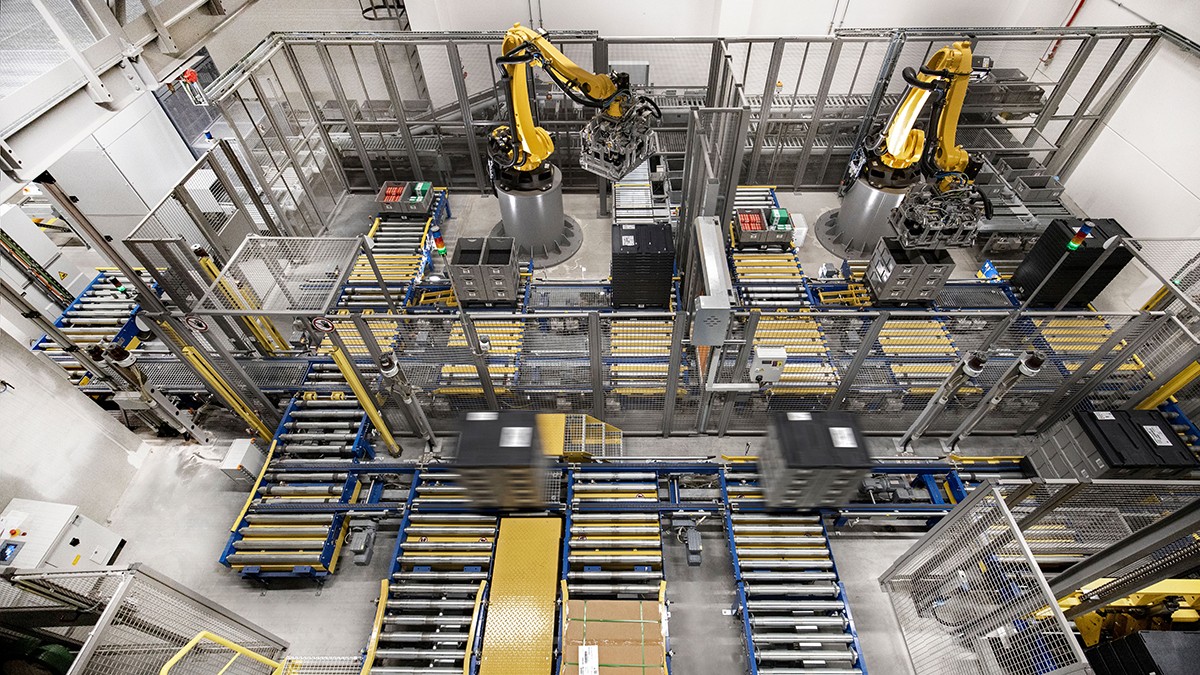 Their very slender articulated arms and relatively large working range result in large lever ratios between the load and bearing support or the load and the gear for the articulated arm. The loads also act over large distances on the linear bearing supports of the linear systems used as range extenders. As a result, bearing supports with particularly high rigidity and a high load carrying capacity are required – despite the comparatively low loads. The development of further applications for lightweight robot construction requires larger load carrying capacities within the same design envelope. To take account of these market dynamics, Schaeffler is presenting some new developments that will each set new benchmarks under its label Cobot Solutions.
Products
New bearing supports for lightweight robot construction
Schaeffler has developed a completely new bearing type specially for the articulated arms of lightweight robots (LBR) and cobots: The double-row XZU-series angular contact needle roller bearing. With a large number of rolling elements, rigid line contact, and an internal support distance provided by two separate raceways, XZU bearings offer optimum values with up to 30% more tilting rigidity and 20% less friction in comparison with crossed roller bearings of the same size. The optimized cage design offers lubricant pockets, which retain the lubricant in the rolling contact in an optimum manner. Apart from the reduced friction, this also leads to improved and more reliable sealing of the bearings.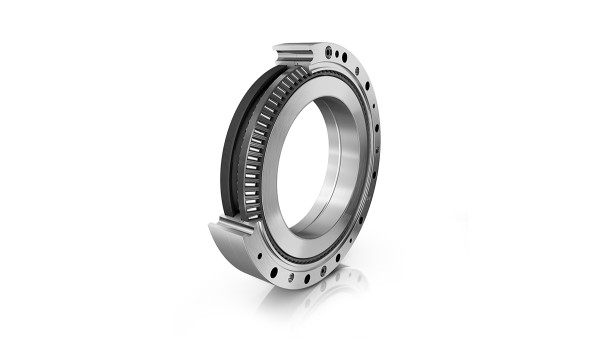 Robot manufacturers can now design even smaller, lighter and more rigid articulated arms by using the new XZU angular contact needle roller bearings in lightweight robots. The advantages for the operator: The oscillation of the robot arms is significantly reduced and the control rigidity is improved.
New precision strain wave gears for lightweight robot construction
The RTWH-series DuraWave strain wave gear was also developed with the same objective. A major leap forward in development is required in order to be successful in a market with proven designs and experienced suppliers. For this reason, Schaeffler does not only use the new XZU angular contact needle roller bearings in DuraWave strain wave gears. The company also transferred its expertise in forming high strength gear teeth for the automotive market to the industrial sector. The precision strain wave gears are characterized by freedom from clearance, high positional accuracy, a compact design, and a very long operating life. RTWH DuraWave strain wave gears are currently offered in the four sizes 14, 17, 25, and 32 with gear ratios of 100 to 160 and nominal torques of 25 to almost 900 Nm.
Range extender for robotics
Schaeffler is offering plug-and-play-ready linear actuators as range extenders for significantly extending the working range of robots. These are designed as an individual complete solution and are supplied with servo gear motor, servo controller, cable track solution, and a floor or ceiling installation kit for the robot. A selection can be made between a triple toothed belt or a ball screw drive for the drive system depending on the application.
X and Z-axis systems can also be easily realized for cobots using two linear actuators from Schaeffler's wide-ranging modular system. The extended range of travel in two axes often offers the option of using a smaller and lighter robot.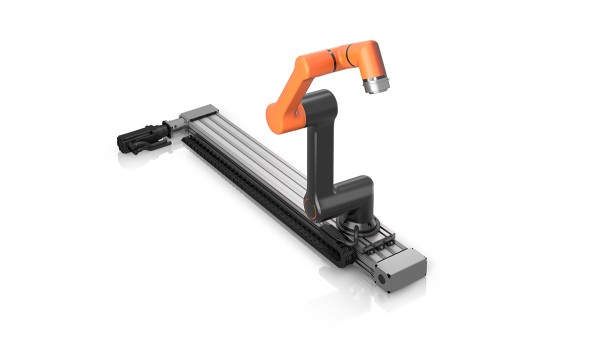 Consultation, calculation, and product selection
Whether it's research and development, tribology, materials technology, technical testing, on-site bearing analyses, training or advanced training, Schaeffler's consultation engineers are your expert contacts right from the start. In the field of design and simulation, we are continuously expanding our range of services, for example, with the BEARINX bearing calculation program. This makes it possible to very precisely display, calculate, and document the loads on rolling bearings in articulated robot arms, while taking a large number of ambient conditions into account. Tilting of the articulated joint bearings, the rigidity of gear teeth, and even deformation of articulated arms can be taken into consideration. We do this by calculating the bearing loads down to the individual rolling contact.
Contact:
[email protected]