The cornerstone of the Krebs & Riedel grinding wheel factory in Bad Karlshafen was laid some 125 years ago. Today the family-owned company operates worldwide as a manufacturer of individually manufactured precision grinding wheels and impresses with innovation and solution-oriented application technology advice. Above all, customers from the automotive, aerospace, mechanical engineering, medical technology and wind power sectors rely upon the high-precision products manufactured by Krebs & Riedel. In addition to conventional grinding wheels, cutting wheels, cup grinding wheels and grinding segments with ceramic and synthetic resin bonds, Krebs & Riedel also manufactures CBN and diamond tools with ceramic bonds, as well as honing rings. The medium-sized family business with over 250 committed employees has an annual turnover of 31 million euros. Krebs & Riedel is one of the global innovation leaders in abrasives and has subsidiaries in China and India and a strong distribution network in more than 30 countries worldwide.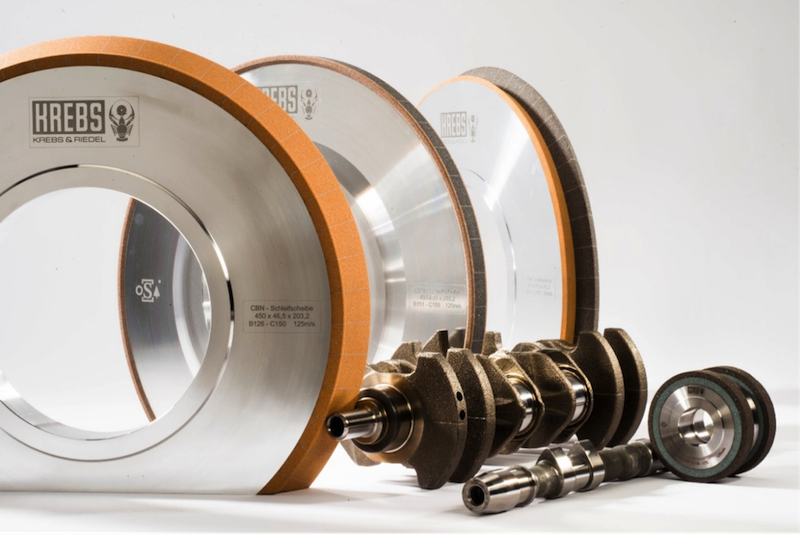 A family-owned company, strengthened by crises.
In the company's history there have been many crises in which the management has withstood external influences.
The company survived two world wars and the Great Depression of 1929. In 1965 Bad Karlshafen was hit by the Heinrich flood and afterwards various buildings were demolished, rebuilt and numerous employees were hired. In 2008, the bankruptcy of the Lehmann Brothers bank plunged the world into a severe economic crisis and many thousands of people lost their jobs. In 2020, COVID-19 will cause another global economic collapse but despite the pandemic, the company is well positioned for the future.
Strong investments in the future.
Krebs & Riedel has subsidiaries in China and India, as well as 30 international distributors. A team of application technology consultants looks after customers worldwide. Krebs & Riedel emphasis the importance of research & development and works closely with several research institutions. Important investments in sustainability management and the expansion of the Bad Karlshafen plant are ongoing.
Diverse portfolio, individual products and special solutions with special quality requirements.
At Krebs & Riedel, high-quality products are created with special quality standards and maximum safety. Krebs & Riedel is a member of the VDS (Verband Deutscher Schleifmittelwerke e.V.). As a founding member of the oSa (organization for the safety of abrasives), safety comes first.
The production program includes corundum and silicon carbide wheels with a ceramic bond and synthetic resin bond for most industrial grinding applications up to 900 mm outside diameter for round, flat, tool, centerless, gear and rough grinding applications. Cut-off wheels in synthetic resin bond with and without fiber reinforcement up to 800 mm outside diameter for chop cut, pendulum cutting and rotary cutting. Roughing and pendulum grinding with and without fibre reinforcement for the cleaning shop and the foundry industry; Grinding wheels for pendulum grinding machines, grinding wheels for bench grinders and grinding wheels for grinding manipulators. Diamond and CBN grinding media in vitrified bond with a working speed of up to 200 m / s for internal, flat, circular, tool grinding and special grinding processes.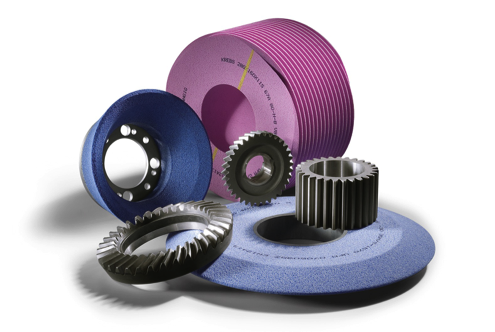 Krebs & Riedel is a specialist in gear applications.
Krebs & Riedel is a specialist in the field of gear applications and supplies top gear manufacturers around the globe. These grinding wheels are used on many gear grinding machines, including those from the manufacturers Gleason, Kapp-Niles, Klingelnberg, Liebherr, Mitsubishi, Reishauer and Samputensili.
For customers in the automotive industry, aerospace, mechanical engineering, medical technology and wind power, Krebs & Riedel offers the right tools for the perfect machining of gears in continuously reliable quality. Our experience ranges from grinding the smallest gears in the field of medical technology to large planetary gears in wind turbines.
From continuous generating grinding to single profile grinding and bevel gear grinding to power honing, we also offer customized grinding solutions. Whether you want to increase your productivity, improve tool life or optimize your surface finishes, you can rely on Krebs & Riedel's consistent grinding performance.
The effective Blue Moon™ wheels for continuous generating grinding
Blue Moon™ 147A and 148A – specifications for increased economic efficiency through extended dressing cycles and increased removal rates in the grinding process. By using special abrasive grain geometries and proportions in connection with an optimized pore space design, a very high level of ease of cutting with little heat input and high cutting performance is achieved. Krebs & Riedel produces unprofiled or pre-profiled worm wheels for modules 1 – 12 in the highest quality according to customer specifications up to 80 m/s.
Continuous generating grinding with fine and polishing zone.
Krebs & Riedel produces a wide range of dressable grinding worms with a ceramic bond for your gear machining. All specifications guarantee the highest profile accuracy with the lowest thermal loads on the workpieces. The combination of our grinding worms with fine-grain or polishing worms creates powerful tools that enable grinding and polishing in one application. The following design variants of the compound screws are possible: Unprofiled or pre-profiled for module 0.8 – 5, larger modules possible upon customer request.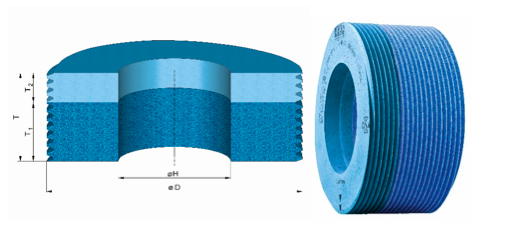 Re-coatable CBN worm grinding wheels on a carbon carrier.
Krebs & Riedel was one of the manufacturers who offered a carrier variant for CBN and diamond abrasives. The proportion of carbon fiber guarantees maximum strength with the lowest weight. The body is up to 75% lighter than a comparable steel body. In addition to easy handling during assembly, extremely smooth running is achieved. This means that the load on the grinding spindle is lower. In addition, they offer significantly better damping properties than conventional base bodies. In addition, the carbon base bodies are often used when machining small filigree components. The grinding behaviour is more harmonious and leads to improved surface quality. With the new CBN worm grinding wheels, an increase in productivity can be achieved through increased stock removal with an improved service life. Thanks to the fact that the base body can be re-assigned, good economic efficiency is also achieved, despite the higher material price. Therefore, it is not just a short-term thought, but a trend that will also prevail over the long term. The working speeds are up to 100 m / s. Depending on the composition, higher working speeds can also be achieved.