Automotive
GGB is recognized as being a key supplier of DP4® and DP31 bushings to manufacturers of struts and shock absorbers.
DP4® and DP31 products give exceptional performance in terms of low friction and wear resistance
DTS10® offers superior performance for plug-in hybrid and electric vehicles as bearing loads have significantly increased due to the weight addition of the electric motor, electronics and battery pack
For many decades, the increasing weight of passenger car vehicles has been a headache for strut and shock absorber manufacturers. The reasons behind the previous and progressive increases of car weight are multiple:
Improved vehicle safety with higher car strength and addition of car crash crumple zones, braking assistance systems such as ABS and ESP, occupant protection systems such as front, side and head airbags, pyrotechnic retaining seatbelts, zenon or LED headlights and electronic suspension systems
Additional occupant comfort from air conditioning, electric steering, electric heated seats that are adjustable in multiple positions and glass roofs
Increased connectivity with added cameras, sensors and electronic devices for ADAS navigation and entertainment with large size touch screens and audio sound systems
Societal consumer styling change from saloon and hatchback models with the introduction of larger and heavier SUV (Sports Utility Vehicles and CUV (Crossover Utility Vehicles) representing now over 30% of vehicle sales
In addition to these reasons, and perhaps for the most important reason of a cleaner environment, car weight has and will further rise as manufacturers are obliged to electrify their models to reduce the level of exhaust gas emissions and comply with the latest vehicle emission legislation.
The electrification of a vehicle typically involves the integration of an electric motor, electronic control equipment and battery in different motorization configurations which according to their level of complexity leads to varying reductions in car emissions, for example:
| | |
| --- | --- |
| Motorization configuration | Reduction in CO2 |
| Mild Hybrid 48V | 15 – 20% |
| Plug-In Hybrid | 50 – 75% |
| Battery Electric | 100% |
However, this reduction in CO2 is offset by an increase of vehicle weight, in some cases close to 300kg or more, depending on the type of car model and motorization solution that is chosen, for example:
Model
Weight for Equivalent Versions, Kg
Increase,
Kg
Increase,
%
Only
ICE
ICE with
Plug-In Hybrid
100%
Electric
Urban
1 165
 -
1 455
290
25%
SUV
1 430
1 750
 -
320
22%
Luxury Sedan
1 720
2 085
 -
365
21%
This greater weight has a direct impact on the organs of the suspension and leads automatically to a significant rise in the applied loads on the struts and shock absorbers which incorporate a GGB bushing.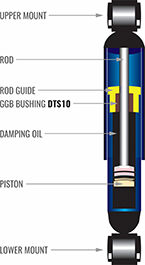 The GGB bushing is located inside the strut and is mounted in the rod guide assembly.
The function of the bush is two-fold.
– Support the radial loads that are applied to the strut from the suspension, loads that vary considerably during cornering, acceleration and braking and also from the road topography under all types of road conditions
– Allow the sliding movement of the piston rod to which is fixed the piston that dampens the vibrations during the extension and compression cycles of the shock.
After analysis of the higher load conditions and taking into account the restriction of not increasing the size of the bushing due to weight and dimensional constraints whilst still maintaining overall life performance, it quickly became apparent that a new bearing solution was required.
To meet these requirements, the metal-polymer GGB DTS10® is the ideal bearing solution for this new generation of struts as its unique composite structure offers:
– A homogenous anti-friction overlay enriched with PTFE and wear resistant fillers with a minimum thickness above the bronze layer of 0.1mm
– Steel backing for high mechanical strength
As indicated in the DTS10 Product Brochure, the superior tribological performance of DTS10 compared to other products has been evaluated by multiple tribological trials on test benches in our Research and Development laboratories.
| | |
| --- | --- |
| Relative Lubricated Wear Resistance  | Relative Hydrofatigue Resistance  |
| | |
Trials in the field have further given a confirmation of the benefits of GGB DTS10® in strut applications which are:
Improved strut response 
Constant low friction performance and negligible stick-slip effects from the PTFE enriched overlay.
Longer endurance performance 
Superior life performance with a homogenous bearing overlay containing wear resistant additives,
Potential better acceptance of edge loading on the bush due to bending of the rod under heavy loads from an increased overlay thickness above the bronze layer.
For more information on GGB DTS10® and how it can be incorporated into your high performance suspension project, please visit the product page, download the brochure or contact us directly via [email protected]